Adrian Kempe | C MODO | Sweden
Height: 6'2" Weight: 187 Shoots: Left
2011-2012 Djurgarden J18 GP: 34 G: 10 A: 10 P: 20 +/-: 15 PIM: 24
2012-2013 MODO J20 GP: 39 G: 6 A: 7 P: 13 +/-: -7 PIM: 36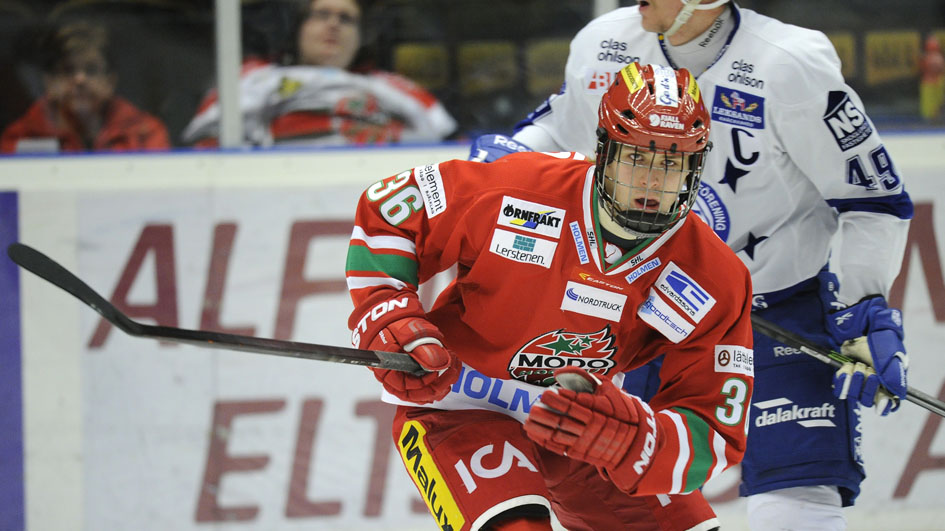 Kempe is a well rounded talent who, with size and
strength, already plays a North American style
(Photo Credit: The Hockey Writers)
Kempe is yet another player with good hockey bloodlines. His brother Mario currently plays for MODO while his father, Mikael is a coach and General Manager for Malaro in Sweden. This season, after starting out as an assistant captain with MODO's J18 team, Kempe's strong performance has earned him a call up to the adult team in the Swedish Hockey League. So far, in 22 games in the top league in Sweden, he has tallied two goals and added another four assists while maintaining a positive plus minus.
He likes to control the puck and has the ability to keep it on his stick. And known for having a heavy shot, Kempe's wrister has been described as "lethal". However, with great passing skills, he has displayed more of a playmaker's mindset, especially early on this season.
Offensively, Kempe also makes waves thanks to his size and strength. A bullish forward, the young Swede drives hard to the net to creates scoring opportunities.
But what Kempe lacks in offensive flair and flashiness, he more than makes up for with pure grit and a strong work ethic. Never passing up on an opportunity to throw a check, Kempe is an intense player who rarely takes a shift off. He is a tenacious forechecker and an aggressive player. So while he will need to improve on his maturity and discipline, he already has the size and strength to play in North America.
A mobile player with speed, Kempe will still need to improve his skating to increase his potential. Rounding out his two way game by improving his play in his own zone should also be a point of focus going forward. Overall though, Kempe displays a high level of skill, competitiveness and smarts. He's got some work to do but represents a well rounded talent.